20 Praiseworthy Pizzas

08/29/2017 03:36PM ● Published by Style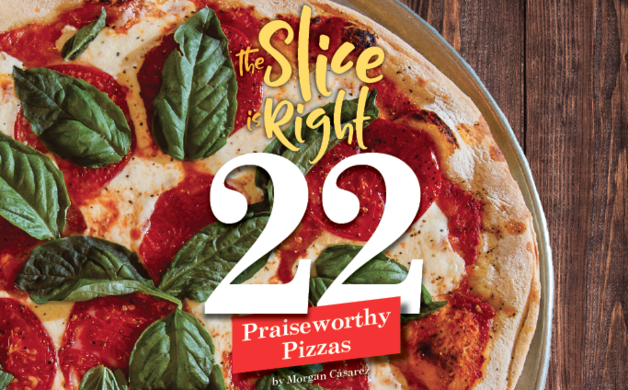 Lombardi's—America's first pizzeria—opened its doors in New York City's Little Italy in 1905. More than a century later, the family-owned business is still serving up the Margherita that put it on the map. Whole-milk mozzarella, tomato sauce, grated Romano and fresh basil atop a thin, coal-baked crust continue to attract visitors from all over the world. The Big Apple will forever lay claim to the nation's oldest pizzeria, but that certainly doesn't make California slices any less celebrated. In fact, some of the state's most mouthwatering pies are right here in our own backyard. Whether you crave wood-fired, deep dish, vegetarian, classic or something slightly unconventional, you're sure to find a new favorite among Style's list of the very best pizzas. In no particular order…
3450 Palmer Drive, Suite 1, Cameron Park, 530-672-2333
ORDER THIS 
Build-Your-Own Pizza: Toppings include pepperoni, salami, sausage, meatballs, ham, eggplant, zucchini, artichoke hearts, tomatoes, pineapple, bell peppers, onions, olives, mushrooms, anchovies, jalapeños, garlic; $14.95-$16.95 + $1-$1.50 each additional topping
 IN THE KNOW 
Stop by Tuesday-Friday from 11 a.m.-1:45 p.m. and get a mini cheese pizza for $6.95 ($.50 each additional topping) and add a green salad for $2.
423 Main Street, Placerville, 530-303-3415
 ORDER THIS 
Portobello Mushroom Bacon: Tomato sauce, portobello mushrooms, hickory smoked bacon, mozzarella; $22-$33
 IN THE KNOW 
The marinara, pasta, bread and pizza crust are all made from scratch, every day, and feature Molino Caputo flour that's imported from Naples, Italy. Lunch specials and pizza-by-the-slice are both available.
Squally's On the River
7310 CA-49, Lotus, 530-622-1213
 ORDER THIS 
Pulled Pork Pizza: BBQ sauce, pulled pork, pineapple, onions; $12.50-$21.95
 IN THE KNOW 
Beautiful outdoor deck overlooking the river with occasional live music on the weekends. Available to rent for private parties. 
Milano Pizza
3958 Cambridge Road, Shingle Springs, 530-676-1616
 ORDER THIS 
*Rancho Pizza: Zesty basil red sauce, cheese, pepperoni, mushrooms, tomatoes, homemade ranch; $6.99-$25.99
 IN THE KNOW 
Lunch specials are served Monday-Friday from 11 a.m.-4 p.m. and include a three-topping calzone for $5.99; large, one-topping pizza for $11.99, or personal, two-topping pizza and soda for $6.99. 
7221 State Highway 49, Lotus, 530-642-2025
 ORDER THIS 
Middle Fork Mushroom: Mushrooms, feta, tomatoes; $4.99-$6.75
 IN THE KNOW 
Live music on Friday, Saturday and Sunday evenings; open mic on Thursday nights. All seating is outside. Open seasonally for the rafting season.
Food+Wine
,
In Print
,
Today
feature
guide
pizza