Now and Zen
05/31/2012 07:49AM ● By Style
Photos courtesy of Tom Crabtree.
Like many homeowners, Tom and Delia Crabtree love tuning in to landscaping and gardening shows on the HGTV and DIY Networks.
"We couldn't wait to watch each new episode of Yard Crashers," Tom shares. The couple learned that the show's host, Ahmed Hassan, was appearing at the 2010 Home and Garden Show at Cal Expo in Sacramento. Finding Ahmed funny, warm and engaging in person, Delia was able to set up a personal consultation with him a few weeks later at their home.
Turning nightmare train-wreck yards into "yard dreamscapes" on a weekly basis is Ahmed's specialty, and though in need of work, the Crabtree's yard couldn't be described as a total disaster. "Obviously, a Yard Crashers show was not going to happen, so I asked him if he would consider performing a yard makeover without the TV cameras rolling," Tom says.
"I told him that I trusted his vision implicitly and he could do anything he wanted in our yard as long as we stuck to a reasonable budget."
Intrigued, Ahmed agreed to turn their "ho-hum" outdoor spaces into something special.
The designer asked the homeowners a million questions about what they liked and didn't like in their yard. "He absorbed it all, then talked about his vision," Tom says. "I told Ahmed that I wanted a koi pond with a waterfall and that he couldn't cut down my orange tree. That's all I told him." Despite the Crabtree's space, Ahmed's goal was to create plenty of room for entertaining, which included the addition of a BBQ, fire table and koi pond.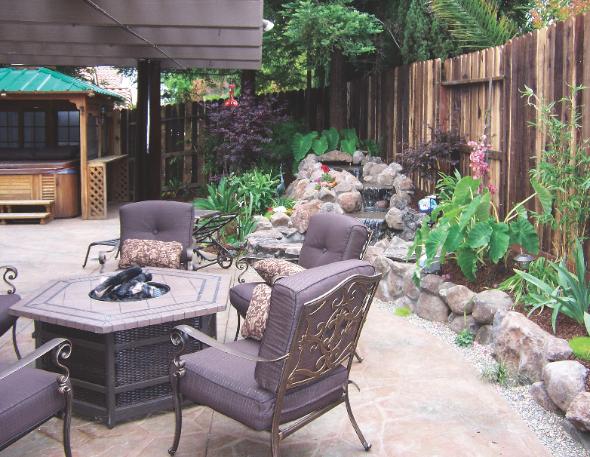 Aaron Hoffman, a regular crewmember on Yard Crashers who specializes in ponds, designed and installed the beautiful pond and waterfall. "The sound of the water as it runs over the falls and splashes into the pond actually drowns out all the noise from around the neighborhood," Tom notes. "It's very peaceful and relaxing."
They also asked Ahmed to sprinkle some color into the landscape to liven things up a little and make the yard look like springtime. "As usual, his vision was our gain," they say. In addition to the cosmetic upgrades, the yard also had drainage issues stemming from a pipe running under the grass, so Ahmed dug up the pipe and connected it to the top of a streambed. The yard was designed with water-saving drip irrigation for all the bushes and trees; in addition, solar path lighting and solar spot lighting was used in both the front and back yard to highlight features at nighttime.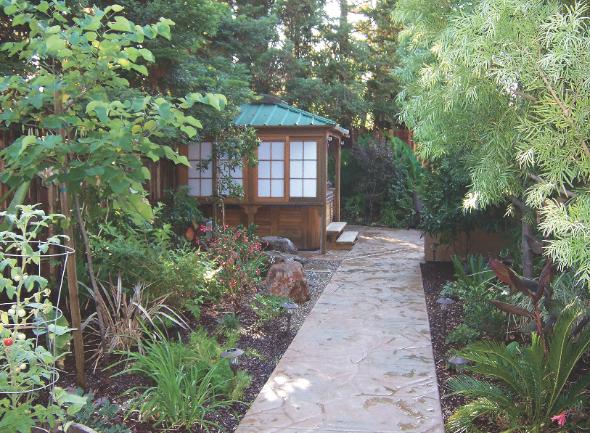 When the Crabtrees were nominated for the Folsom Home and Garden Tour, they asked Ahmed to come by and work his magic on their front yard as well. "Strangers driving by actually come to a complete stop to admire our front yard. It's that nice," Tom says. "Ahmed isn't a yard crasher, he's a yard genius."
BEFORE: